Online Payment

Online Payment

With WIND's e-Bill service, you can pay, quickly, easily and immediately, your bill, through a credit card, and print your receipt or e-mail it to the address of your choice.

CONTINUE

The Company

Sponsorships

We support athleticism and culture!

LEARN MORE

WIND Stores

WIND Stores & Points of Sale

Choose your location on map and find the WIND store closer to you!

LEARN MORE

Language
Fixed & Internet
Most popular videos (in Greek)
Choose a topic to find what you are looking for
or tell us about your query
Most popular questions
How can I get information on the areas covered by the company's network regarding WIND services?
Please, click here in order to check for overall network availability.
What factors affect the speed of my connection?
The Internet access speed depends on many factors, such as the distance between your house and the telephone exchange, the quality of the internet wiring of your house, and other imponderables. It's also important the technology of your connection (ADSL or NGA) since ADSL has limited capabilities.
I submitted a request for a WIND Fixed Telephony & Internet plan. How can I be informed regarding the activation stage?
We will inform you about the progress of your request, via text messages (SMS). You can also find out the activation stage by calling WIND Fixed Telephony & Internet Customer Service at 13800 or by using our Online Application Monitoring service.
How can I improve my connection speed?
Plug in the equipment according to the instructions; do not keep other devices close by. Also, place the equipment in areas that provide good ventilation, and use cables and power sources in good condition. Don't forget that your speed depends on your equipment (e.g. your laptops card) and that connecting with WiFi has always losses regarding to Ethernet connections.
What is SIMPLEfi?
Is the simplest way to have fast Internet at home or on vacation, through the network of WIND. Perfect for everyone looking for a flexible solution that works everywhere or is an occasional Internet user.
Online Tools
Billing (in Greek)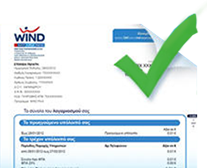 QUICK LINKS
STORES
CUSTOMER SERVICE
myWIND