Border Areas
Get informed about your network!
When travelling in areas situated near the borders (Macedonia, Thrace, Ionian Islands, Aegean Islands, and Dodecanese) you might get connected to a foreign neighboring country network. In this case, you will see on your mobile screen the foreign network's display name and roaming charges will apply.

Before using your phone, check your device's screen in order to make sure that you are still connected to the WIND network.

Alternatively, you can contact customer care and ask for roaming to be deactivated when you are at a border area.
Wind Mobile Broadband
If you are located close to the Greek borders and you accidentally connect with a neighboring country mobile network, the following image will appear as a Pop up window on your laptop.
Choose whether to connect to the neighboring foreign network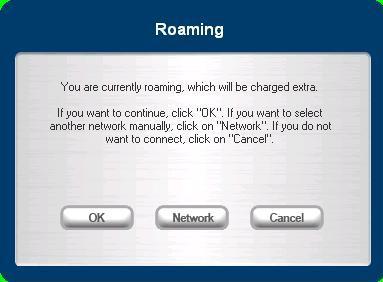 You can then choose whether to connect to the neighboring foreign network and use the service with roaming charges, or press Cancel to disconnect.