Online Payment

Online Payment

With WIND's e-Bill service, you can pay, quickly, easily and immediately, your bill, through a credit card, and print your receipt or e-mail it to the address of your choice.

CONTINUE

The Company

Sponsorships

We support athleticism and culture!

LEARN MORE

WIND Stores & Points of Sale

WIND Stores & Points of Sale

Choose your location on map and find the WIND store closer to you!

LEARN MORE

Language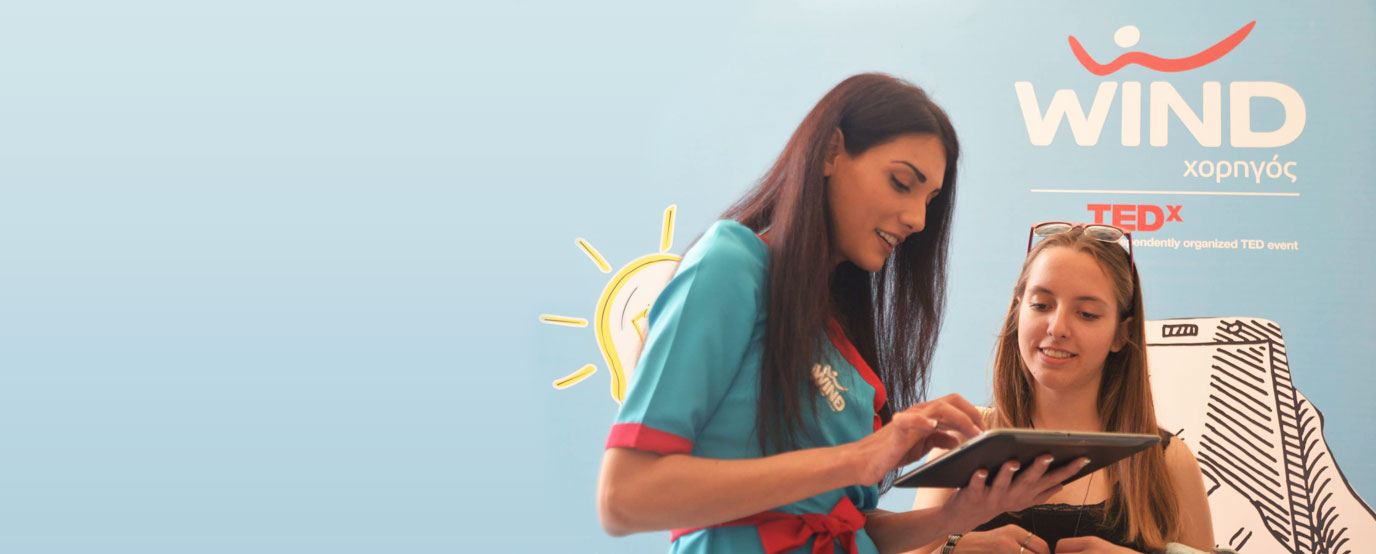 TEDx
We support efforts!
TED is a non profit organisation, that promotes ideas worth spreading. TED's goal is to motivate people, through the power of ideas, to change their lives and the world. TED started in 1984, in California, and thanks to the web presence of its speakers and the TEDx events, it has become a movement, relevant to the lives of people around the globe. TED.com has become a platform, through which millions of people share today's and tomorrow's knowledge.

TED is short for "Technology, Entertainment & Design", which are its three core themes. Today, TED hosts speeches on all subjects pertaining to our daily lives, including the environment, the economy, politics, science, volunteering, etc.

The TEDx initiative started in 2009, with a goal of encouraging innovation, leadership and dialog, transferring the TED experience to a local level. TEDx are non profit events, organised by volunteers, committed to the spirit and character of TED. TEDx events are organised by teams, organisations or individuals who have secured TED's permission to use its name. Furthermore TED offers instructions and guidelines, as well as recorded material from past TED events. TEDx events take place all over the world, in cities like New York, Sydney, Dubai, London and Amsterdam, creating a global community of thousands of TEDxsters.

WIND has supported a TEDx events all over Greece, since 2011, thus supporting people who bring a a fresh wind to society.
TEDxHeraklion
TEDxAUEB
TEDxUniversityofAegean
TEDxPatras
TEDxAcademyYouth
TEDxThessaloniki
TEDxSparta
ΤEDxKids Illissos
TEDxAcademy
QUICK LINKS
STORES
CUSTOMER SERVICE
myWIND