Online Payment

Online Payment

With WIND's e-Bill service, you can pay, quickly, easily and immediately, your bill, through a credit card, and print your receipt or e-mail it to the address of your choice.

CONTINUE

The Company

Sponsorships

We support athleticism and culture!

LEARN MORE

WIND Stores

WIND Stores & Points of Sale

Choose your location on map and find the WIND store closer to you!

LEARN MORE

Language
Health & Safety
Employee training on health & safety
Employee Training in Health and Safety
Specialized training is provided in the field of Health and Safety, to ensure that all employees are fully informed.
At regular intervals, we conduct training on Fire and First Aid, as well as training courses for the Safety of SiteSecurityOfficers. These training courses areaddressed to colleagues who comprise fire prevention teams in our facilities throughout Greece.
Keeping employees informed
Ensuring the health of employees through compliance with all security policies, but also keeping them well informed on issues related to health and safety are essential goals. The most important initiatives within this framework are below:
Since 2002 we have implemented policies and procedures relating to the prohibition of smoking in the workplace. Due to legislation banning smoking in public and private spaces since July 2009, we have implemented a series of actions aimed at informing employees on the current methods and ways to stop smoking. The initiatives relate to informative meetings on alternative ways to stop smoking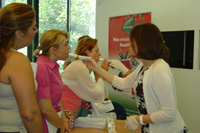 Quit smoking initiatives
Quit smoking initiatives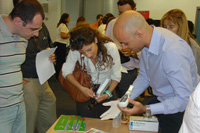 During these meetings, a voluntary measurement of carbon monoxide in the body and information on the degree of stress the body experiences because of smoking and the use of pharmaceutical products was displayed. Moreover, specific brochures with instructions, tips and information on official Smoking Cessation Centres in Greece which included special corporate rates are distributed to WIND employees.
Update on the Flu virus
In July 2009, we conducted a comprehensive campaign on preventative measures with which to tackle the pandemic 'flu virus' A (H1N1) to our employees, following instructions from the Centre for Disease Control and Prevention ("KEELPNO"), the Ministry's Public Health Directorate.
QUICK LINKS
STORES
CUSTOMER SERVICE
myWIND