Legal Framework
Who you can contact
Code of Conduct
Vodafone, WIND and Cosmote have jointly signed a "Code of Conduct" concerning services with adults themes. This comes under the self regulation framework of the mobile telephony sector in Greece. Its aim is the mobile telephony sector's active participation in the sound use of the added value services offered to the consumers (e.g., content services, videos, MMS) by mobile telephony companies.

The companies continue to work in this direction to further improve the Code by also considering developments at a European level. The European Memorandum for the safer use of mobile phones by children and teenagers has been incorporated into the Code of Conduct and has been signed by the companies within the framework of harmonization to the Code.
The EETT has published the Code of Conduct for providing Electronic Communications Services to Consumers pursuant to its Decision No: 488/82/30-7-2008. This Code regulates the provision of electronic communication services to consumers and is complimentary to the existing regulatory and legislative framework in force.
Useful links
Competent authorities which may be contacted by the user:
ADAE: Hellenic Authority for Communication Security and Privacy. The ADAE Independent Authority is designed to protect the confidentiality of letters, free correspondence or communication in every way and the security of networks and information. www.adae.gr

Ε.Ε.Τ.Τ.:Hellenic Telecommunications & Post Commission. EETT is the Independent Authority that the National Regulator controls, regulates and supervises the electronic communications market and the postal market. www.eett.gr

Cyber Crime Prosecution: The Cyber Crime Prosecution Unit investigates matters related to Internet Crime.

Communication:
Athens: Cyber Crime Prosecution Unit
173 Alexandras Avenue – Post Code 115 22 Athens
Fax: 210 6476462
Tel: 210-6476464 210-6476000
e-mail: ccu@cybercrimeunit.gov.gr

Thessaloniki: Cyber Crime Prosecution Unit
326 Monastiriou Street – Post Code 541 21 Thessaloniki
Fax: 2310/559929
Tel: 2310 388370-5, 2310-388000
e-mail: info@cybercrime.gr

Anyone that wants to communicate with the Cyber Crime Prosecution Unit should contact the Attica General Police Directorate at 173Alexandras Avenue – Post Code 115 22 Athens, or by phone on 210-64.76.000 as well as the Thessaloniki Cyber Crime Prosecution Unit at 326 Monastiriou Street – Post Code 541 21 Thessaloniki or by phone on 231-03.88.370-5.

SafeLine:www.safeline.gr
You can find more information on the safe use of internet and mobile phones by children at:
Digital Awareness & Response to Threats
SafeNetHomePlus: www.saferinternet.gr
Child on line protection – International Telecommunication Union: www.itu.int/cop
The Association for the Psychosocial Health of Children and Adolescents» (A.P.H.C.A.)::

"Liaison - Line 801 801 1177" for the psychosocial health of children and adolescents that is exclusively aimed at parents, teachers and adults who want to speak on a matter regarding a child or a teenager. It operates Monday to Friday from 9:30 am to 20:30 in the evening. Calls can be made from a landline for one residential unit.

The European "Support Line for children and adolescents 116 111" is a counselling hotline exclusively for children and adolescents. Any child or adolescent that feels the need for help, support or advice on anything that concerns or disturbs them may call.
Telephone Advisory Service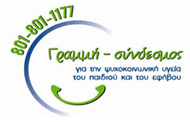 Liaison - Line 801 801 1177 Support Line for children and adolescents 116 111