SIMPLEFI ON THE GO WITHOUT CONTRACT
SimpleFi On the go without contract
You can order now the new connection pack "WIND SimpleFi On the go with Card" and surf with 20GB for 60 days at only 18€!
Are you planning for a weekend getaway or the trip of your life? Do you often travel abroad for business? Take advantage of our new Prepaid offer and activate your own WIND SimpleFi On the go with Card connection pack, to be online everywhere, with no monthly contract obligations!
Benefits:
Internet wherever you go without any obligations
Pay only when you use the Internet
Gain absolute control of your Internet usage
Place your order now
WIND SimpleFi On the go card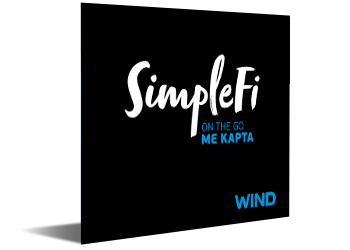 WIND SimpleFi On the go includes:
1 SIM card
User manual
+ 18€ top-up Voucher for 20GB internet valid for 60 days
ORDER NOW
Activation of 20GB
Insert the SIM Card in your device.
Send the 16-digit number of the top up voucher via a free SMS to 1265 and you will get instantly 20 GB valid for 60 days.
Additionally, if you use a device that is not able to send SMS, you have to install WIND Connection Manager. After the WIND Connection Manager has been successfully installed, click "Connect" and provide your PIN number found on the SIM Card packaging. As soon as the SIM Card is activated, you can start "surfing"!
To receive information on your remaining data usage, send a free SMS to 1228, via WIND Connection manager, with the command "YP".
* All prices include VAT.